Old drawings
Hi guys, here's my old TNTT drawings:
This was used to promote thieunhi.net, a website I first created in 1997 and lost a long while back. Hmm, I think I had a crush on some TN girl when I drew this.
Here is another one. Very sloppy. Lazy artist!
This pix was in the TNTT Hướng Tâm Lên magazine, a Christmas issue, (of course) from a long, long, long, long time ago…I think…
Was sketching in a meeting.
A scene from Journey of Faith or Hành Trình Đức Tin (Trò Chơi Lớn). Guess what is the sign on the ground?
I drew a TNTT priest playing the guitar at a training camp. He looks so cool.
My favorite scene. It was commissioned for a church's newsletter. I'm thinking of making a painting of this.
Ahh, I drew this for a team leader (Đội Trưởng) training camp.
I forgot when or where I drew this. It must be for some family bible sharing time…
I didn't like this one. I think it was a pre-sketch for the church newsletter that didn't make it to the print shop.
A logo for something, it escaped my mind.
Oh, I drew this for Trưởng Sam, a HT from Tôma Thiện Buffalo, NY in Miền Đông Bắc.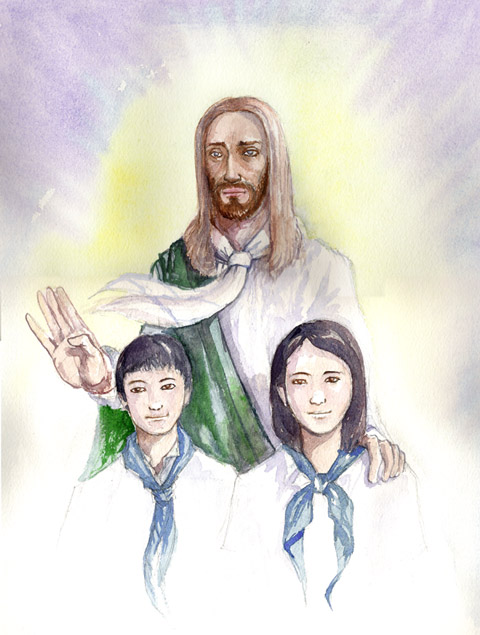 A quick watercolor painting (i know, lazy) of Jesus and two Thiếu Nhi. People still debated on why His pinky stuck out. I said, to focus more on Làm Việc Tông Đồ.
Self explainatory.
Lạy Chúa Giêsu Thánh Thể, con yêu mến Chúa. Xin Chúa ngự vào linh hồn con và ở lại với con luôn mãi.
Logo for Chúa Thánh Thần Hiện Xuống.
Logo for a Hội Nghị Huynh Trưởng
Come with us. This pic was modified and used in the Đại Hội Về Đất Hứa 4 website
Was commissioned for a Thiếu Nhi New Year magazine, I think.